EVENTS
June 20-24, 2011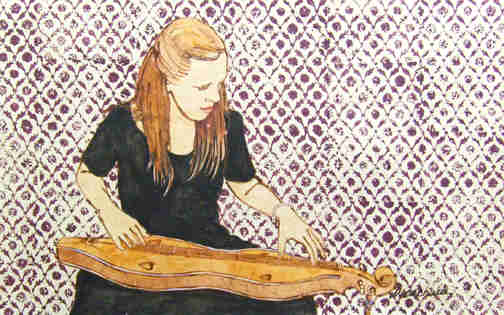 Dulcimer Reverie by Annabelle Meacham
You can order a print of Annabelle Meacham's "Dulcimer Reverie"
by sending an e-mail to Lee Cagle
. The original work is stamp and drawing on rice paper. Cost of the print is $25, and Annabelle will donate $10 of each purchase to The Memphis Dulcimer Gathering, Inc. Prints can be picked up from me or mailed for an additional shipping and handling charge of $10.
When matted or mounted on white paper, the print fits in a ready-made 18" x 24" frame.
Annabelle Meacham studied art at Northwest Mississippi Community College, then at The Memphis College of Art, and has been painting and printmaking ever since. She has had one-artist exhibitions, to name a few, at Duke University, The Meridian (Miss.) Museum of Art, The University of Mississippi, The Arts Center of the Ozarks, and the Savanna (Ga.) College of Art and Design. Meacham has had work selected for juried exhibitions by the Senior Curator of Contemporary Art at The Whitney Museum (NYC), and by the Curator of The Phillips Collection (Wash., D.C.). Her work is represented by Jay Etkin Gallery in Memphis, and is in the collections of Federal Express, Promus Hotel Corp., Westin Hotels, and Holiday Inns, among others.
In 2003, the annual reader's poll of Memphis Woman magazine named Annabelle Meacham as their favorite artist.