VENDORS:

Dulcimer House
(Dennis Moran)


kasu designs
(jewelry by Kathy Hellweg)

Bob Magowan,
Dulcimer Doctor
Guy and Sharrie George

Bob Magowan, Dulcimer Doctor

In addition, each of our instructors will

have a table of CDs and instructional

materials for sale.
Midday Concerts include**
Open Stage
Bing Futch, Native American Flute
Doug Felt
Harry Johnson and family, bones/bodhran
David Gish, guitar
Jess Dickinson
Hilary Rose and Daniel Fleck, mandolin & old time
Mulberry Jam
Sidestreet Steppers

**performances subject to change

Mixed Bag Workshops
Kevan Barley
Guy George, steel drum
Sharrie George, ukelele
Harry & Doug, bones & bodhran
Jess Dickinson, guitar
Photo for 2012 Gathering T-shirt
which can be pre-ordered
with your registration: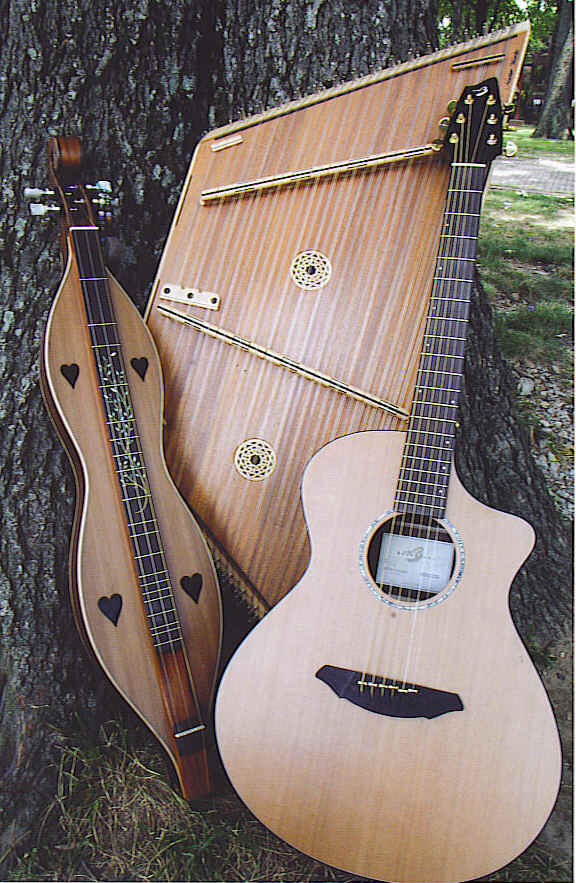 SILENT AUCTION

We will again have two instruments for our silent auction, a Traveler model hammered dulcimer from Jake's Cabin (designed by Rick Thum), and a six-string mountain dulcimer from The Dulcimer Shoppe (McSpadden). Many thanks to Jim Newman and to Jim and Betty Woods for their continued support of the Gathering.

Auction Rules:
Bidding starts at $150 and must be increased at increments of $5 or more up to $250. Above $250, bids may be increased in increments of $1 or more.

Bidding ends promptly at 1:30 on Saturday, September 22, 2012.

Payment must be made immediately by check or cash. If payment cannot be made, the bid will go to the next highest bidder who stands ready to pay with check or cash.

INSTRUMENT DESCRIPTIONS:


Jake's Cabin Hammered Dulcimer — Traveler Model --- Value: $450.00
FEATURES: 14 treble 13 bass courses – solid spanish cedar top – solid hard-rock maple pin block – 5-ply birch plywood back – solid walnut end rails – color-coded tuning pins

SPECIFICATIONS: Bottom Rail: 35-3/4" – Top Rail: 17-1/4" – Side Rail: 17-1/4"
Height: 14-5/8" – String Spacing: 1-1/4" – Weight: 9lbs.

McSpadden Mountain Dulcimer --- Value: $451.00

6 String, Flat Peghead, Teardrop with Cedar top, Walnut back and sides — 28 ½" vibrating string length — tuned in the Key of D with 6 ½ and 13 ½ frets included — basic setup is dD-Aa-dd