VENDORS:

kasu designs
(jewelry by Kathy Hellweg)

Bob Magowan,
Dulcimer Doctor
Guy and Sharrie George

In addition, each of our instructors will

have a table of CDs and instructional

materials for sale.
Midday Concerts include**
Open Stage

Doug Felt
Harry Johnson and family, bones/bodhran
Side Street Steppers
Jess Dickinson
Hilary Rose and Daniel Fleck, mandolin & old time
Mulberry Jam
Randall McKinnon
Kevan Barley, guitar, banjo, autoharp


**performances & Mixed Bag Workshops
subject to change

Mixed Bag Workshops
Kevan Barley, guitar
Guy George, steel drum
Sharrie George, ukelele
Harry & Doug, bones & bodhran

Many thanks to Don Pedi for
designing this year's t-shirt. Photo
for 2013 Gathering T-shirt
which can be pre-ordered
with your registration: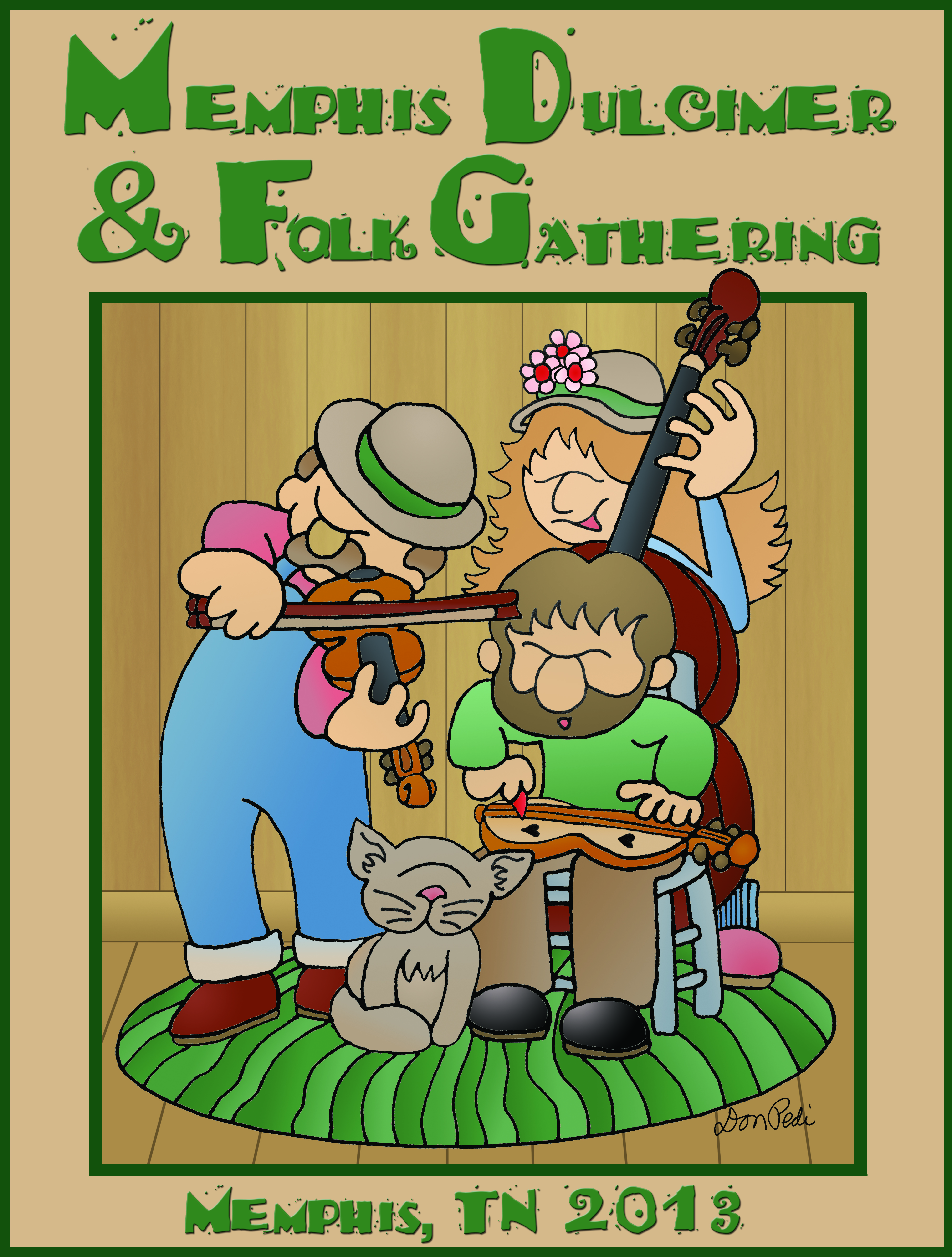 SILENT AUCTION

We will again have two instruments for our silent auction, a Traveler model hammered dulcimer from Jake's Cabin (designed by Rick Thum), and a mountain dulcimer from The Dulcimer Shoppe (McSpadden). Many thanks to Jim Newman and to Jim and Betty Woods for their continued support of the Gathering.

Auction Rules:
Bidding starts at $150 and must be increased at increments of $5.

Bidding ends promptly at 1:00 p.m. CST on Saturday, September 21, 2013.

Payment must be made immediately by check or cash. If payment cannot be made, the bid will go to the next highest bidder who stands ready to pay with check or cash.

INSTRUMENT DESCRIPTIONS:

Jake's Cabin Hammered Dulcimer — Traveler Model --- Value: $450.00
FEATURES: 14 treble 13 bass courses – solid spanish cedar top – solid hard-rock maple pin block – 5-ply birch plywood back – solid walnut end rails – color-coded tuning pins

SPECIFICATIONS: Bottom Rail: 35-3/4" – Top Rail: 17-1/4" – Side Rail: 17-1/4"
Height: 14-5/8" – String Spacing: 1-1/4" – Weight: 9lbs.

McSpadden Mountain Dulcimer --- Value: $445 -- Cherry back and sides, spruce top; four-string teardrop with flat peghead.



Advanced registration is by mail only with a check or money order
payable to Memphis Dulcimer Gathering.
Please mail to:
Memphis Dulcimer Gathering
PO Box 224
Moscow, TN 38057

EARLY REGISTRATION DEADLINE IS SEPTEMBER 6
CLICK THE LINK BELOW FOR
THE REGISTRATION FORM:
** MDG, Inc., works hard to provide the finest in instruction and entertainment to participants at our festival. We work with a small "to the penny" budget each year. All money from festival proceeds goes directly to pay for the festival. Therefore, we regret that we are not able to provide a refund should you be unable to attend. However, because we are a federally recognized nonprofit corporation, we will happily provide you with a tax deduction letter for the amount of your registration should you be unable to attend. Thank you for your understanding and support.


Cost of all events (workshops, vendor area, jams, midday concerts, Friday night concert)
(excluding lunch) is $95
per person.
If paid by 9/6, cost is $85 per person (lunch is an additional $8 per day).

A one day pass is $50 per person.
Advanced registration for one day is helpful but not necessary.

Concert tickets are $10 per person.


Lunch is available with advance registration and payment by 9/6 at a cost of $8 per day. No lunches will be available on site without prior reservation. Lunch includes hot entree, salad, dessert, drink and gratuity.


THE TOTAL COST OF ALL EVENTS PLUS LUNCH BOTH DAYS IF PAID BY 9/6 is $101.
To receive the discount price,
all pre-registrations
must be postmarked by 9/6
*** NO EXCEPTIONS!!!! ***


If you do not order lunch, you may still bring a sack lunch to join us for music and fellowship during the midday events.
HOTEL INFORMATION

HAMPTON INN Walnut Grove
33 Humphries Center Drive
Memphis, Tennessee 38120

901-747-3700

This hotel is very convenient to
the Gathering.

$92 plus tax, includes full breakfast buffet

Open for reservation: Currently

Deadline to reserve: August 19, 2013

Make the reservation for the group rate for Memphis Dulcimer Gathering.

Hampton Inn is located at the corner of Walnut Grove and Humphries Blvd just east of the Walnut Grove exit from I-240. From the Inn, festival participants will travel west on Walnut Grove Road, and the church is located on the north side of Walnut Grove just a few miles from the hotel.